The new Human Papilloma Virus (HPV) Primary Screening Program goes live from Tuesday 12th September. The HPV test can either be performed on the current liquid-based cytology (LBC) sample (SurePath) or utilising a self-collected or clinician collect vaginal swab. You must use the HPV specific swab and buffer tube. Cytology will still be utilised but as a reflex test for HPV positive patients or co-test in symptomatic patients. (If an HPV swab is positive then the patient will be asked to return so a SurePath LBC can be collected for the reflex cytology.)
What are the minimum labelling requirements for an HPV specimen?
HPV specimens are like all laboratory specimens and require a minimum of at least 3 identifying criteria which can include: first name, last name, NHI number, date of birth. If there are fewer than 3 unique identifiers on the specimen, a recollect may be required.
How do I label the HPV swab buffer tube?
It is important you know the swab buffer tube is placed in a rack that is then loaded into a fully automated instrument so please ensure the 2D barcodes at the top of the buffer tube label are NOT covered as the instrument needs to read these. If these are covered then a recollect will be necessary.
If using sticky labels, please ensure there are no flags or tags otherwise the tube will not fit into the instrument racks. Thank you for your assistance.
How do I store the HPV swab kit before use?
HPV swab kits are stable at 2 to 30oC until the expiry date on the buffer tube.
How quickly do I have to get the HPV specimen to the laboratory?
Once the HPV swab is in the buffer tube it is stable for 15 days at 2 to 30oC. The SurePath LBC vial is stable for 4 weeks at room temperature.
It is recommended all specimens are transported to the laboratory as soon as possible and please ensure samples are not exposed to extreme heat, e.g., don't leave in direct sunlight or in an unoccupied car.
How do I order HPV swab kits?
Your local laboratory has been supplied with enough HPV Swab kits to supply all practices in your region, however we do ask that you do not order excessive quantities as the stock has a limited shelf life, plus we do not want to see providers not able to access stock as a result of overstocking by some practices.
You can place an order for HPV swabs via the same process you have been using when ordering SurePath Cytology collection kits, through your local laboratory supply network.
Is HPV swab collection available at Pathlab rooms?
No this is NOT available at any Pathlab facility. Our phlebotomy staff are not trained or certified to offer support for patients with regard to HPV swab collection or answer any specific questions around HPV testing or Cervical Screening.
We cannot provide on-site collection of HPV swabs to patients in our collection rooms, nor will we stock HPV swab kits in our collection rooms.
All HPV swab advice and collection are the responsibility of the clinical service providing cervical screening to the patient.
When will the Pathlab eOrder HPV Screening Request Form be available?
The new Pathlab eOrder form will be available from next week, ready for the start of the HPV Screening roll-out.
Below is a view of what the Cervical Screening form will look like, allowing you to choose either an HPV Swab or a SurePath LBC sample, along with the clinical details picklist you will be required to complete.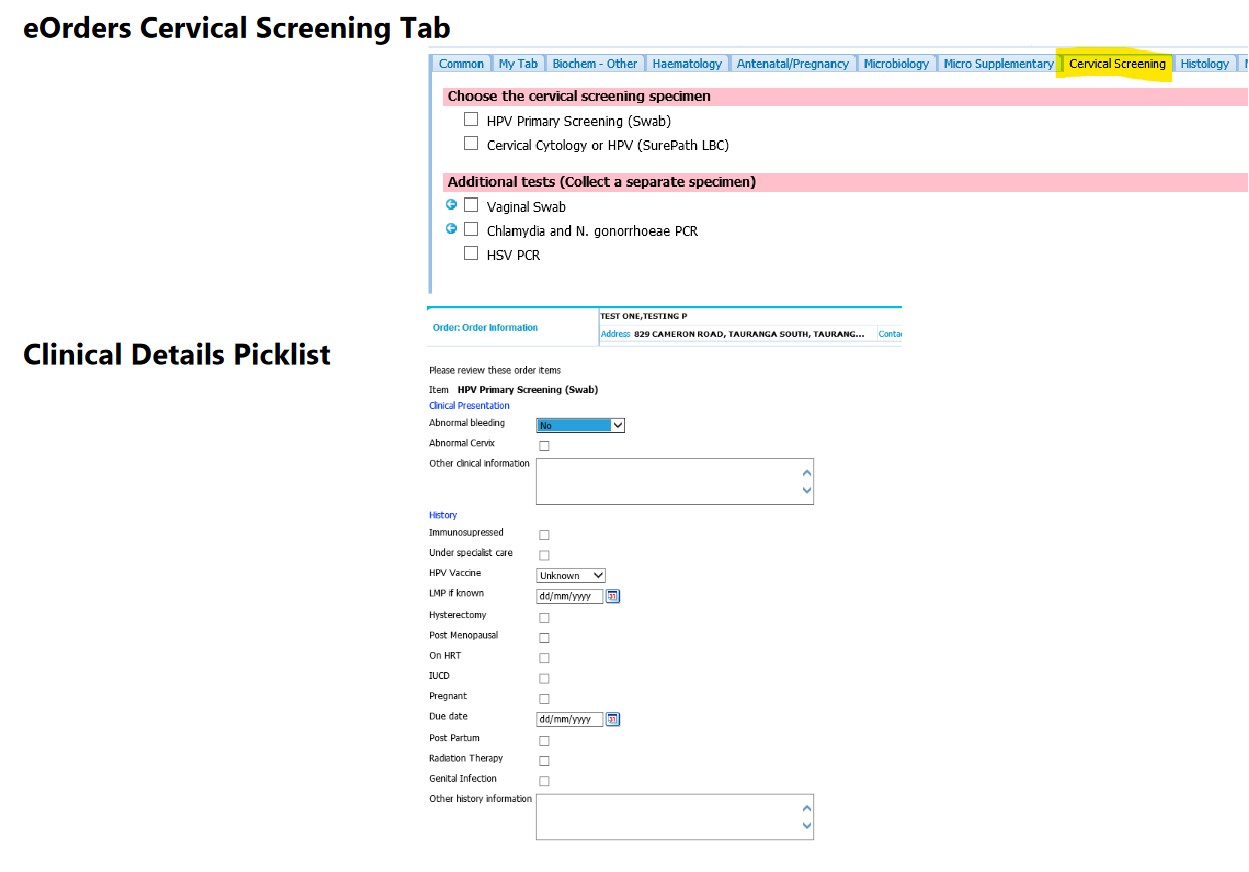 For further information about the HPV Primary Screening changes please refer to the Time to Screen website, or the National Screening Unit website.
If you have any questions please refer to the Pathlab website HPV page, or contact us either by phone on 07 578 7073 or using the Pathlab secure contact form.